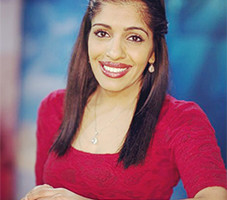 Kiran Dhillon is a television, radio, print and online journalist.
Since July 2016, she has worked as a web producer for CTVNews.ca as well an on-air journalist for CTV News Channel. In this role, Kiran helps to oversee the direction and editorial content of the national website as well as provides regular on-air updates for the station's 24 hour national television channel.
Before CTV, Kiran was a reporter for CBC News. Most recently in Toronto, but before that in Vancouver, Winnipeg, Regina and Saskatoon.
She has a degree in communications from the University of Winnipeg and a diploma in journalism from Red River College.
You can e-mail Kiran here.